The care you need when life hands you the unexpected.
Health changes can be unpredictable and cause great stress. Residents of the Shepherd Court neighborhood at Twin Lakes can breathe a little easier knowing that whatever changes come, there is support in place.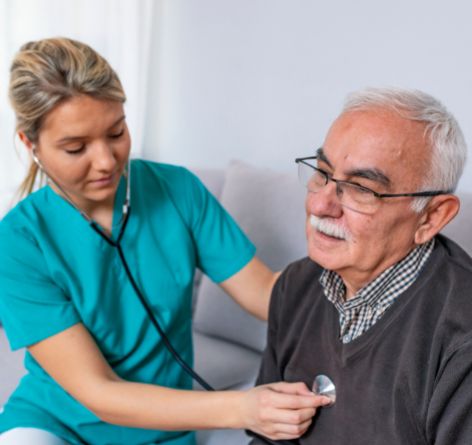 Skilled Nursing
If you've had surgery or an injury you may need short-term rehabilitation to get you back to being independent. No matter the length of stay you'll have a private place to recover and heal. With the support of a team and a plan that is designed just for you.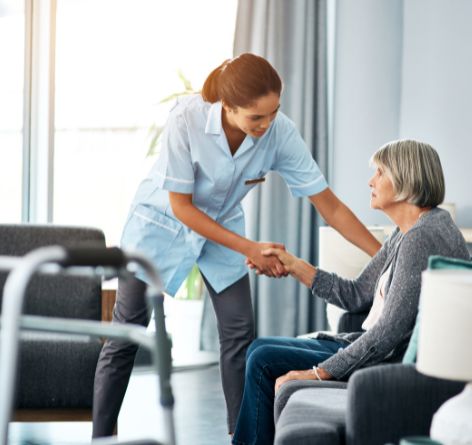 Long Term Care
Should you or someone you love be in need of constant care, there's a compassionate team that can help. With care plans that are tailored to meet individual needs and preferences, the focus of our team is to preserve dignity and foster independence.
The Shepherd Court neighborhood design is not what you'd expect from nursing care accommodations. Living rooms are extensions of bedrooms, offering gracious living space. Country kitchens and spacious dining rooms create a welcoming environment that feels like home. Effective January 1, 2023, the daily rate for a private residence is $547 (priority access is given to Twin Lakes residents).
Included in your daily service fee:
Assistance with bathing, dressing and medication management

Three meals daily

Weekly housekeeping

Bed and bath linen service weekly

Health monitoring around the clock

All utilities, including telephone and basic cable television

Social, educational and recreational events and programs
After surgery or injury, you want to get back to your best self as quickly as possible. Whether you need rehab on an inpatient or outpatient basis, there's no better place to do that than Twin Lakes. Using the latest innovations in rehabilitation services and equipment, our experts will create a customized wellness plan to help you reach your goals faster. You should feel confident in your therapy. Call us at (513) 247-1300 to talk and learn more.
Stroke, CVA, and other neurological disorders
Rehabilitation Services & Amenities
Aquatic Therapy

ACP Modalities: Electric/Stim/Ultrasound/Diathermy

VitalStim Therapy

NuStep and cardiac monitoring treadmills

SCIfit recumbent bikes

Wii for balance retraining

Balance Boards

Stairs, curb, and ramp training

Private treatment rooms

Personalized car transfer training in your own vehicle

Customized wheelchair, scooter, and power wheelchair fitting and training

Home evaluations conducted by therapists prior to discharge
Have questions about availability or accepted insurance policies?
Give us a call at 513-247-1300.