A full spectrum of care for whatever life may bring.
Residents of Twin Towers are supported by a comprehensive set of healthcare services, including inpatient/outpatient rehabilitation, private rehabilitation suites, and long term care nursing.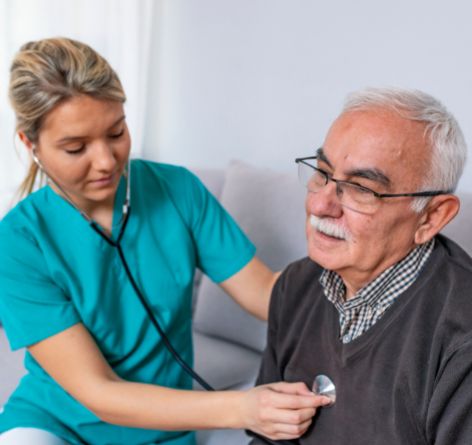 Skilled Nursing
After an injury or surgery, you may need short-term concentrated rehabilitation to get you back to being independent.  No matter the length of stay you'll want a private place that feels like home. Our rehab suites do just that.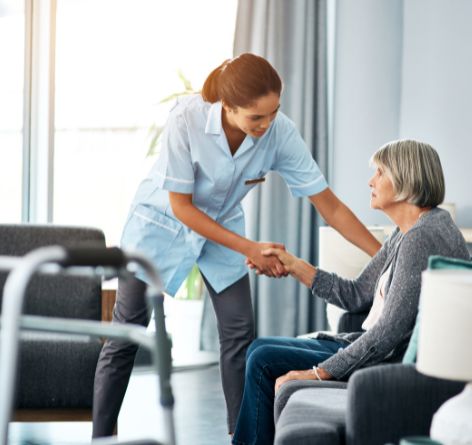 Long Term Care
The design of our Health Pavilion is unlike what you'd expect from nursing care accommodations. Living rooms are extensions of bedrooms and inviting balconies to bring the living space outdoors – just like home.
Nursing Services & Amenities
Spacious private suites with private bathrooms

Flat screen televisions and wireless internet service

Regular visits with your credentialed physician

Individualized plans of care including specialized dining options

Podiatry, Audiology, Optometry, Dental and Diagnostic Services

Personalized laundry and housekeeping services

Social, recreational and spiritual programs

Hospice services available

Beautician/Barber Salon and Spas

Unrestricted visiting hours
Explore Our Nursing Health Pavilion
Therapy experts give you the care you need, where you need it. 
Whether your therapy needs require a stay in our private rehabilitation suite or you are coming from home, the rehab team will focus on what it takes to help you maximize your independence. Our experts can provide many specialty and sought-after services in our therapy gym. You should feel confident in your therapy. Call us at (513) 853-2000 to talk and learn more.
Areas of Specialty
Stroke, CVA and other neurological disorders

Joint replacements

Postoperative care

Pulmonary care

Cardiac conditions

Pain management

Wound Care

Amputation management

Prosthetic gait training

Vestibular disorders

Generalized weakness
Rehabilitation Services & Amenities
ACP Modalities: Electric Stim/Ultrasound/Diathermy

NuStep and cardiac monitoring treadmills

Xbox Kinnect for balance retraining

Stairs, curb, and ramp training

ADL Suite to stimulate your home environment

Full equipped kitchen and full size washer/dryer

Personalized car transfer training in your own vehicle

Customize wheelchair, scooter, and power wheelchair fitting and training

Home evaluations conducted by therapists prior to discharge

Fully equipped bathroom with tub and walk in shower